H.E.R.'s Historic Take on a Tale as Old as Time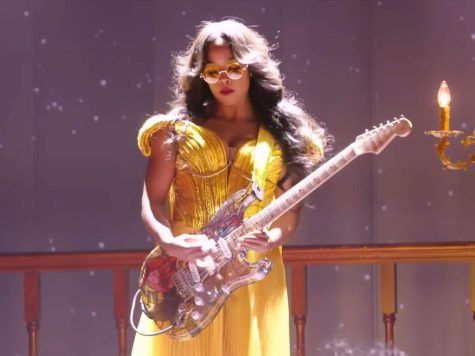 "Tale as old as time…"
   Everyone's eyes are locked on H.E.R. as she takes the stage, and the audience can't decide which of their senses is being enhanced more: their hearing, enthralled by the lead's deep, rich voice, or their sight, captivated by H.E.R.'s glow in Belle's iconic yellow gown. The once slow song picks up pace as graceful dancers quicken their spins, and suddenly, the crisp sound of an electric guitar continues the melody instead of vocal cords. H.E.R. appears on clouds, soloing on the stained glass guitar that symbolizes the Beast's famed enchanted rose. As she glides back down to center stage in yellow-tinted sunglasses and shredding her custom instrument, –her signature look– the audience captures history being made. She isn't Disney's traditional royalty, but she is a princess nonetheless. Gabriella Wilson is HER.
   Grammy Award-winning R&B singer Gabriella Wilson, most commonly known as H.E.R., lived the popular dream of little girls this past December 15. While it's typical to simply fantasize about being a princess, the artist saw endless opportunities in being cast as Belle for Beauty and the Beast's 30th anniversary. Thus, the tale as old as time was reimagined like never before.
   Following Disney's recent wave that brought in new cultural diversity, Wilson's performance in the musical labeled her as the first Black and Filipina woman to play Belle. This fact alone brings pride to the multitudes of people H.E.R. represents. Sophomore Asher Wheatle, who is proud of his Filipino and Jamaican heritage, is one of them! He comments that "it's cool how she can act as a stand-in for two communities at once, especially two extremely different cultures."
   Boiling it down even further, however, people of color in the entertainment industry specifically also applaud H.E.R.'s breaking down of barriers. "I love seeing more Asian representation [in entertainment] since I feel like the world should be progressing more from racism to representation," junior Ashlyn Mathew says admiringly. As a proud South Indian in theater, she expresses how she "still think[s] that there should be improvements in representation in the industry overall, but it's a good beginning for cultures to be fully appreciated."
   While H.E.R.'s presence itself made history, the cultural appreciation didn't stop there. To honor her Filipino roots, the musician made a special request for Baybayin, an ancient Filipino script, to be included in one of her costumes. After working with the production's costume designer to have "Belle" spelled out in Baybayin around the apron of her village outfit, Wilson delightedly showed off her costume while performing (GMA News). She even took to Instagram to thank those who helped her achieve such a special moment, saying "special shout out to Jessie who hand painted the Baybayin on my costume" (Instagram).
   Now at the forefront of Filipino representation, H.E.R. has made many Filipino-Americans feel seen. Sophomore Zoe Porcia, for one, cherishes Wilson's work. "There's an indescribable feeling of joy when you see someone of color representing you in such a powerful role that back then, you wouldn't think would be accomplished," Zoe notes. "There's so much pride that you feel, especially when you see people of color being recognized for their talents."
   When it came to H.E.R.'s actual performance in the musical, she brought a spin to the traditional vocals of Belle. Rather than stick to the character's high-pitched, dainty voice, the singer used her naturally rich and strong voice as an asset. Still, many believed she didn't just look the part, but she played it, too. Junior Anaya Andre, one of H.E.R.'s day 1 fans, even explains how "When [she] heard H.E.R. in the new live performance of Beauty and the Beast, [she] was like wow… because [H.E.R is] one of [her] all time favorite artists and the depth in her voice brings so much more soul to the role." Perhaps the most unique musical aspect brought to the film, however, was her electric guitar solo in the finale performance of "Beauty and the Beast", in which she sang alongside Josh Groban as the Beast. With riffs that echoed throughout the air of the theater, listeners heard the talents of a princess like no other. Zoe describes it as nothing but "breathtaking".
   Although the part live action musical, part animated film aired on December 15, 2022, the special can be watched on Disney+ and ABC, titled Beauty and the Beast: A 30th Celebration. As H.E.R. continues on her career pathway, she always takes her Black and Filipino pride with her. Like Zoe says, "it's always a hopeful thing to see someone of color not only achieve but own a role they've been given, representing and making many minorities proud."