A New Look to Charter
   With an ominous black tarp shielding the middle of the U building, and an entrance through the unknown side door of the A building, students at Pembroke Pines Charter have begun to wonder, what's going on? Sadly, there's no hidden creatures or secret laboratories being made, but there are up and coming additions and renovations!
   The A building has recently been surrounded by metal fences blocking the usual main entrance's double-doors. The usual ringing to be buzzed in will be a thing of the past, as the A building is creating a new single point of entry. This move to a single point of entry was necessary to follow MSD-induced security regulations. According to these regulations, there must be a single point of entry and two tier points on all campuses. These entries will be added to both the A building and the AVM's office.  Senior Thomas Bogota explains, "After MSD I think it showed everyone what could happen at schools when they're not careful. This new entry makes me feel safer and I think [it] will give everyone a little more peace of mind." There have also been other MSD-related security regulations added to schools across Florida, such as panic buttons.
   The new point of entry will be taking up the space of the current offices of Mrs.Fernandez and Coach Bruns. In the A building, students, faculty, and visitors will first have to be buzzed in, then they will be checked in and given a badge to enter the school by Mrs. Pena. Mrs. Fernandez compares this process much to that of a "government building to check in and with cameras".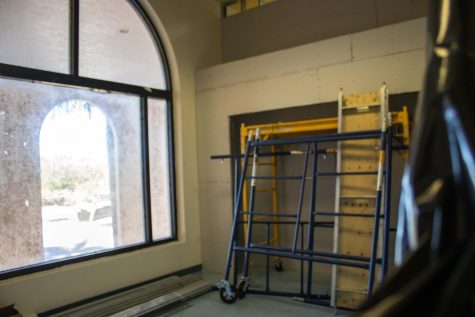 With this new addition however, Coach Bruns and Mrs. Fernandez had to move their offices to somewhere else on campus. Mrs. Fernandez explains, "We needed to find space because we couldn't expand the building. We had to use the existing space". The perfect spot for the existing space was the middle of the U building. Not only was it vacant, but it was also the area with the most traffic, and as Mrs. Fernandez explains "notorious for having issues".
   In addition, Mr. Bayer went into more depth about the need for supervision in the U building. He states, "Students are completely unsupervised in between math and social studies and [the new offices] would allow for a balance between adults".
   The idea is to have Mrs.Fernandez's office in front of the girls' restroom and Coach Bruns to be in front of the boys' restroom. PPCHS Administration is also pushing for a one-way glass that will allow them to be able to view everything going on outside, but not allow people outside to view administration.
   Mrs.Fernandez explains, "The new offices will allow for access and visibility. Right now it's hard for teachers and students to reach administration from the U building. They have to either walk downstairs to meet us or walk all the way to the A building."
   The projected finish date for the new offices in the U building is within the next month or two. Once these offices are done, the renovations to the A building can be started and finished before the new school year. So, be ready for a new look to charter within the year!