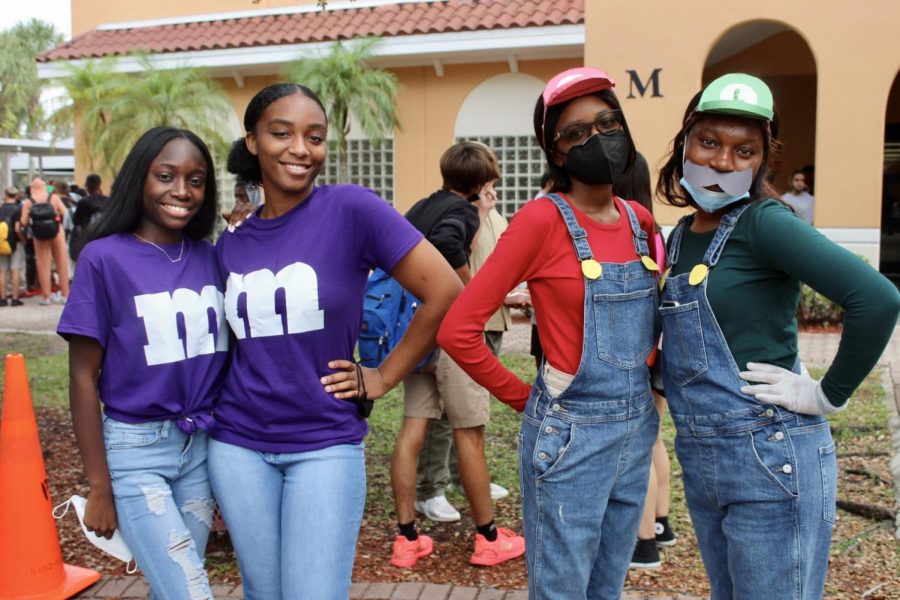 Dynamic Duo Day Brings a Thrilling Start to Spirit Week
   The day that marked the start of November also recognized the beginning of Spirit Week. Dynamic Duo‒or Twin Day to some Jags‒had students come dressed as their favorite duo or group. As soon as one stepped paw on campus that Monday, they found the Spongebob to their Patrick, the Mario to their Luigi, the Tom to their Jerry. 
   Coralie Richardson found the Joy, Sadness, and Anger to her Disgust; the sophomore took inspiration from Inside Out, a sensitive and emotional Disney movie where each character was an Emotion in charge of running the protagonist's mind. "We based our outfits on how we were feeling around that time," she chuckles. However, Coralie explained that soon their moods skyrocketed as if all four of them were Joy. "I enjoyed the day a lot," she says. "I loved seeing the different costumes and creativity levels. And like us, some people even fit into their character." 
   Jessica McIntosh and six other varsity volleyball players also participated. The juniors dressed up as the seven dwarfs, deciding who's Sleepy, or who's Bashful or Grumpy, by the way they play on the court. "For example, I was Happy," Jessica elaborates, "because I'm always smiling on and off the court." Similarly to most students, the day ended up going well for her. "It was fun, and we successfully pulled off our costumes as well."
   Students weren't the only ones that took advantage of the first day of Spirit Week. The science department‒like every year‒found pleasure in dressing up. But instead of resembling a squad from a popular TV show, movie, or book, Mrs. Chancelor and Mrs. Larmony took to TikTok and chose to reproduce The Island Boys.
   The Island Boys are twins from Florida who created a name for themselves by making a video of them freestyling in a pool. Fans across the internet recreated their wacky hairstyle and flamboyant tattoos while singing the freestyle. "We immediately went on TikTok to see the side by side comparisons," Mrs. Ramos says, speaking on behalf of the science department. "And we could not stop laughing at the accessoires people were using to make their hair. We knew this is what we wanted to be." Students reacted enthusiastically to the costumes. "Some would ask to take pictures of us, and some took pictures with us." But Charter's excitement was not restricted to the S building.
   The day all around was one of exuberance. Most Jags were just glad to finally dress do
wn on campus again, and teachers were delighted to reveal their goofy and fun side to students. "Totally an uplifting day," Ramos says. "We saw more smiles and laughter that day than we have in a long time, teachers and students included."