A Special Kind of Love
"When I saw someone post the link to make Valentine's Day cards for St. Judes I was so excited! Just the thought of making someone's day made me feel really happy, and I hope when they receive it, I can make them smile!" – Cayla Mortman, Junior
"I was so happy to be able to bring comfort and pleasure this Valentine's day. The gift of giving, the month of love. I am filled with joy knowing that I could make an act of kindness, even the littlest act, and it would make a whole difference to someone's life." – Mia Rossello, Junior
"The process of making the card online was so simple and it will positively impact one patient at St. Jude for a lifetime. Those 5 minutes I spent making the cards online and in-person was so worth knowing a patient will have a smile while reading it and seeing how someone else took the time out of their day to do this for them." – Samantha Briceno, Junior
"It felt amazing, I felt amazing. It was like a burst of happiness hit me like a strike of lightning. Oh, how happy it made me feel, the thought of giving kindness to another person. I feel it made such a difference in not just me but to anyone who receives my card." – Krystal Cruz, Senior
"I felt pretty good doing it because I feel like that's the least I can do for these kids who are less fortunate than me and hopefully it'll make them happy." – Kalena Rivera, Sophomore
"It felt amazing to be a part of this and to think that little things such as that may brighten someone else's day" – Alina Baajour, Sophomore
Doing the cards made me feel like I was doing something good in the world. It made my heart so happy knowing my card would go to a child who needs to hear those words the most. I feel that it's important to know that one small deed of kindness can impact someone's life more than you can ever know!" – Alexis Galletta, Junior.
About the Writer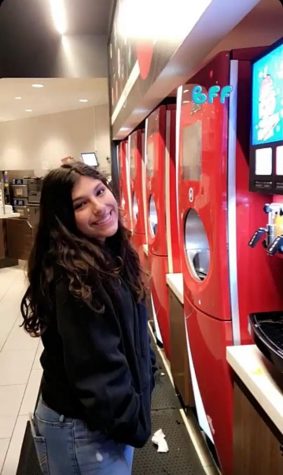 Sabrina Cruz, Staff Writer

Hi, my name is Sabrina Cruz, and I am a sophomore. I am a new staff writer for the CHAT, and I am excited to be working with new people and to...