Years Later and Still Together: The Uniquely Charter-Born Love Story
More stories from Nicole Llanes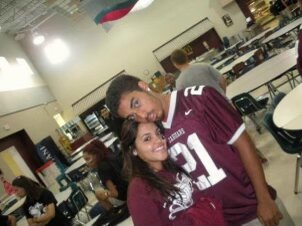 Many past students from Charter have stories of crazy trips, classes, games, teachers, and old friends. Some even have stories that started in Charter and continue on today. Daniella Escobar-Rojas and Andres Rojas are two former Charter students whose love story began right before practice in our very own breezeway.
   Freshman year is a hectic first year for many high schoolers. It's a time to meet new friends and learn your way around the school. Certainly no one expects to find the one they'd marry and start a family with in their first year. Daniella explained the funny story of how Andres and her met and started dating, despite not expecting anything like it beforehand.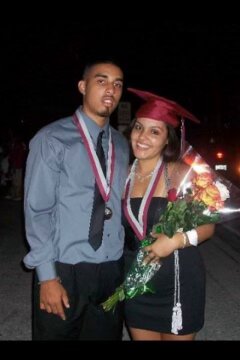 She stated, "My best friend at the time liked Andres, and right before he went to football practice and I went to volleyball practice, I introduced myself. We became super close friends but he started dating my best friend. They broke up and a month later he came to one of my games to ask me out but I made him wait a year till I said yes." They became official in October some time later. 
   Some of Daniella's favorite memories together were prom and spending high school study days at friends' houses. The funniest one she remembers was when they "got caught skipping because we called each other in to excuse our absence and the school called our parents." All their memories inside Charter moved on to life outside of high school. They graduated together in 2010 and got married that same year in July.
   Three years later, the light of their life Andres was born in 2013. Today he is 8 and just like his parents did, he attends Pembroke Pines Charter Elementary School. Daniella and Andres chose to send little Andres here because they "liked the curriculum and education, and wanted to continue the Charter legacy." The older —now alumnus— Andres also returned to Charter, not as a student, but this time as the running back coach for the boys' football team. Also last year they welcomed Adrian, a beautiful baby boy, into their family. Today they are a family of 4. 
   Not all stories end when high school does. For Daniella and Andres, it only continues to grow, and they know they can thank Charter for their beginning.
Leave a Comment
About the Contributor
Nicole Llanes, Editor-in-Chief





Hi, my name is Nicole Llanes and I am the Editor in Chief for the Chat! I'm currently a senior and this is my third year in newspaper...