"The Power's in My Hands": Voting for the First Time in 2020
  Between the empty exterior and the distinct lack of cars, my mom and I thought we were in the wrong place. At first glance, Walter C. Young Middle School looked like it always does: egg-white walls, punctuated by blue-blazoned knights, right next to "Welcome" signs for returning students. It wasn't until we drove further to the side, half in confusion, half in hope, that a wider side entrance for vehicles popped into view.
  Five to ten red-arrowed "Voting Here" signs indicated the path to follow.
  Being clumsy and disorganized weren't options today. Patting my side pockets, I felt the welcome relief of my voter registration card, my driver's license, and a Germ-X bottle I carried for peace of mind. Striding forward from the parking lot —alone now, my mother had mailed her ballot in two weeks before— I wondered whether I was still missing something.
  At 7:58 a.m. on election day, the most momentous first Tuesday after the first Monday in November in my life, I saw only five or six people near the auditorium the arrows pointed to.
  After quickly checking with a woman waiting nearby, asking twice to let my voice carry through the N95 my father insisted I bring, I peered through a doorway.
  Here I was. Semi-cordoned off to encourage space and safe lines, privacy booths off to the side, four separate tables of poll volunteers. This was democracy in action. One of my most important civic duties, in a middle school assembly room, no less.
  Two women beckoned me over to a side stand, sensing that I was disoriented at the implications of the moment. 
  "Name, please," the smiling one on the left asked. The creases around her eyes as she reached for my license for confirmation calmed me. Blessedly, this quiet room wasn't packed, wasn't fearful, wasn't frightening. It was just ready for me.
  The registration system was not. Eight tries, while two other voters passed through with little to no trouble, and my name still wasn't being found. No one looked like they were gearing to kick me out, but I couldn't help but worry that somehow, someway, I had pre-registered incorrectly. The volunteer helping me squinted a few holes into my license as she plugged my name into the machine in front of her once again.
  "I only had my birthday a few days ago," I offered. "But the registration card they sent me does say it's activated once I turn 18."
  The three helpers that had gathered around nodded. Before I could distract the meticulously typing woman in front of me again, some sort of supervisor passed by. Admittedly, I didn't know her name or position, but with a clipboard in her hand and a self-assured manner, this new election official turned everyone's heads as she approached. 
  She looked over the screen.
  "Try to use his registration number as his last name instead. I was having a similar problem earlier," she said. Nods. Then typing, too slowly as I shifted the weight from my left foot to my right, then — 
  "Got it!"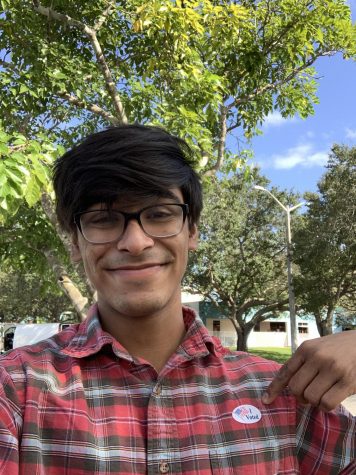 Smiles around me as the people who had come over to help quickly moved away to their next responsibility. Another smile through the mask from my sympathetic volunteer who had just realized this was my first time voting. 
  She offered me a lively "Congratulations!" as she passed me a small paper, then she pointed to another volunteer a little further down the way with the ballot I was supposed to pick up. 
  Paper handed over, ballot picked up, standing in the booth. 
  Here I was. 
  It felt surreal to be voting where I was, an active and real part of the democratic system that's affected my life for as long as I can remember. Carefully and stubbornly filling in each circle next to the names and amendments I had researched beforehand, I couldn't stop a smile crossing my face. 
  It wasn't a life-changing experience, it didn't radically alter my position in the universe, and it barely put a dent in the amount of ink left in my pen, but even then, it felt right to be able to play my part in America's decision making process.
  My last responsibility in tilting the proverbial scales was submitting my ballot to make sure my vote actually counted. I slid my completed paper in the secrecy sleeve and made my way over to the voting machines.
  As my luck —or lack of— would have it, and to the frustration of two very official-looking people I assumed were technicians, one of the voting machines wasn't functioning or setting up correctly when I got there. Thankfully, because there were still only a few people at the time, I was still able to move over to the functioning one I saw. Crossing my fingers mentally, I dropped the first ballot paper in, and then the second.
  A few quick chirps (and one digital burp) later, the screen flashed approval. Sighing in relief, I nodded to the election volunteers nearby and made my way to the directed exit.
  It had taken me around an hour, it could've been even quicker, and I still felt I was missing something. I wasn't though. Change doesn't always surge in suddenly, and it isn't always dramatic.
  In fact, that's what every election is: the capacity for change, in every part of the ballot. Whether the difference I made was palpable was yet to be seen. Nevertheless, I had done it. 
  I planned to open at least seven different sources to follow the poll tracking that night, hesitantly watching for which ballot measures, which officials, which parties made their way through to victory. I knew that for all the things this year had brought me, I was still grateful to vote in this election. Strolling outside, a sense of fulfillment swept through me, and I sensed I had truly done something. Above all, I was just excited. A first generation immigrant, and here I was, an American — hopeful and engaged.
  Of course, the swell of emotions couldn't last forever. I didn't need it to. November 2nd, I made a step to make this country at least a little bit better, which is why I think anyone votes. I now know I was able to be a part of the process. I now see myself as a full citizen.